I have been making espresso coffee since I was sixteen years old. At my first job, at a fast food counter, I was given coffee-making instruction by a kid who pretty much did not know how to make coffee. The only part I remember is, when he was showing me how to froth milk, he was like, "You sort of just bring the jug up and down, up and down..." and he pumped it up and down and it made me giggle and he was like, "Grow up."
Anyway, I made heinous takeaway coffees there for two years. The only kinds I knew were cappuccino (with chocolate sprinkles) and latte (without chocolate sprinkles). Thankfully people didn't order it very often.
One day this guy came in and ordered a long black.
I didn't know what the hell he meant.
"Just... a black coffee," he said. "Water - espresso - no milk."
So I pressed the button to pour some espresso. When it was done, I pressed it again - running more hot water through the same soggy coffee grind. When it had finished, I pressed it a third time. The guy realised what I was doing and said, "No! Stop! It'll taste horrible like that!"
I looked at him, bewildered. What? I was making a black coffee, wasn't I? He sighed, threw up his hands and left the store.
Fair enough, really.
When I quit that job, I put "coffee skillz" on my resume - total lie - and made my merry way over to Cinema Europa where the main thing they serve is coffee. Like, for serious, in cups and glasses. Luckily, the company sent all its staff to get proper coffee training and I emerged with a fabulous new talent/obsession. I told Christine all about the different types of coffee you can make. (She did not care. She only drinks mocha). I explained about the different kinds of bean, and the delicate flavour that grows stale just minutes after the beans are ground. (She did not care. She only drinks instant.) Then I went to work and made eight million of the best darn coffees I could - darn it!
I know that coffee culture seems like a wank to a lot of people. Italian words, boatloads of froth, teeny tiny little cups. And it is, to a large extent. But there's a point to knowing the difference between a ristretto and an affogato.
My father doesn't know the difference. He's just an old farm boy, what would he need to know about cafe couture? He doesn't need any of that foam on top; he doesn't need so much milk in his drink. All he wants is a decent black coffee with a dash of milk in it.
"Well," I informed him, "you could always just order a long macchiato."
I
know
it sounds like the most pretentious beverage in existence. But. A macchiato, my dear, is a shot of coffee and a shloop of milk (sometimes hot, sometimes cold). The "long" part just means there's water in it to fill out the cup (as opposed to being just a shot of coffee). The milk is usually frothed so that when you pour it in on top, it leaves a little bloop of foam on the surface of the liquid. It
looks
really wanky, but the point isn't "oh, look, decorative froth-blob". It's simply a mark to let you know: "here be milk".
Basically, it's exactly what my dad wants.
So next time he went to lunch with his lady friend, Ms Canada, he tried ordering a long mac.
And they gave him a short mac. A shot of coffee with a white blob on top.
He was too unsure of himself to complain, so Ms Canada just poured a little milk in his cup and they made do.
Very disappointing.
There are far too many places in Melbourne that offer espresso coffee. It'd be fine if they knew what they were doing, but
they don't
. You know, "macchiato" has the same number of syllables as "cappuccino". It's
easier to make
than a cappucino - it's mostly just water, and you don't even have to get out the chocolate powder. And it's better for you than a cappuccino - less milk, less weighty, less gross than soy milk (lactose intolerants take note)! Why is it so difficult to learn?
For your amusement and education, I leave you now with a short handy fact sheet to educate you about the different breeds of coffee.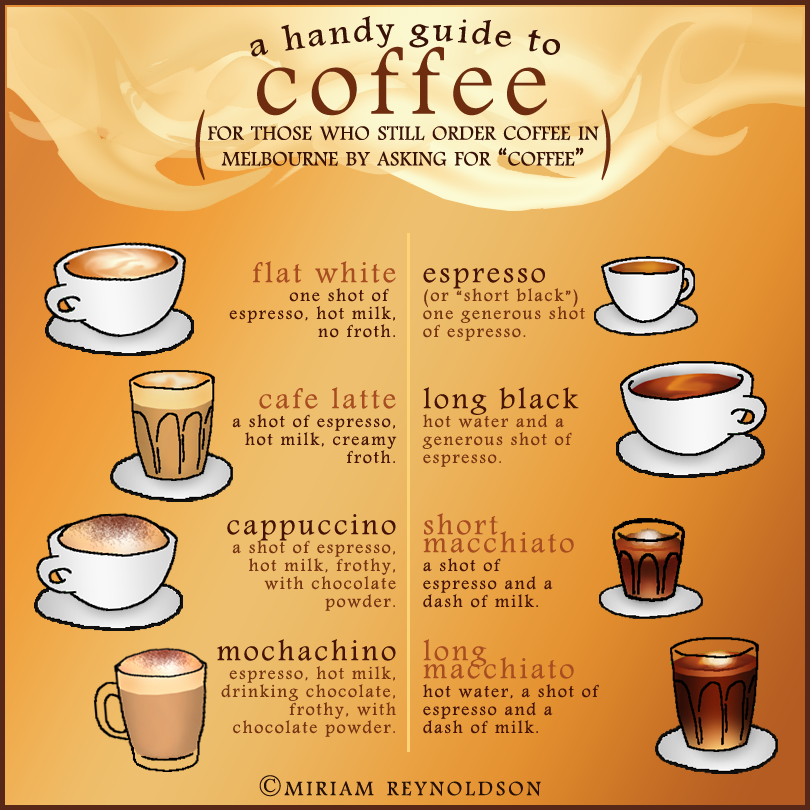 (click to enlarge)